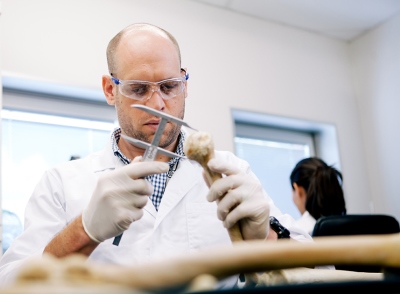 The University of Queensland has added its first individual to a unique skeleton collection aimed at improving osteological knowledge about contemporary Australians.
School of Biomedical Sciences (SBMS) physical anthropologist and anatomy senior lecturer Dr Carl Stephan is curating the all-Australian skeleton collection.
"The collection will consist of complete skeletons of present–day Australians obtained through ethical channels, where origins of the individuals are known to the University," he said.
"This collection is vital for providing first rate science and medical teaching at UQ, and providing new research opportunities in forensic science and the biology of aging."
There is currently no all-Australian skeletal library and many skeletons used for teaching are from unknown origin.
Those bought from China and India are often co-mingled skeletons and do not represent a single individual.
Dr Stephan said the skeletons were being collected under the Anatomy and Transplantation Act of Queensland, from individuals who had generously bequeathed their bodies to the UQ Body Donor program for medical research.
"We're investing significant time and effort in the skeletisation facility at SBMS because we want our anatomy students to have the best learning experience possible, from real and complete specimens of the highest quality," he said.
"Plastic models simply do not provide the detail necessary, and medical images are no substitute for working with real specimens.
"We are using a well-established, natural procedure for the skeletisation process, which is proving very successful - it is fast, sanitary and meticulously preserves even the finest osteological features.
"The technique is similar to that used to establish the Hamann-Todd Collection in the USA, one of the largest and most intensively-used skeletal collections in the world."
Before joining UQ, Dr Stephan was an Oak Ridge Institute for Science and Education Research Fellow for the US Department of Defence in Hawaii helping to identify remains of US soldiers from the Korean War.
"Because the remains were 50 or 60 years old and had been exposed to formaldehyde, it wasn't possible to carry out DNA sequencing" he said.
"The only way to identify these individuals was through chest radiographs taken for tuberculosis screening when these men were first inducted into the military.
"We examined the collar bones and neck vertebrae of the fallen soldiers and compared them to databanks of chest x-rays to find a match.
"Every bone is subtly different between individuals – everybody uses their arms in slightly different ways and, with the exception of identical twins, has different genetics.
"We capitalise on these bone shape differences to help with identification."
Media: Dr Carl Stephan, +61 7 3365 7485, c.stephan@uq.edu.au, Ms Lynda Flower, UQ Biomedical Sciences Marketing, l.flower@uq.edu.au,  +61 7 3365 1536.
---
Postscript
Dr Stephan's work has been featured in the media: