Overview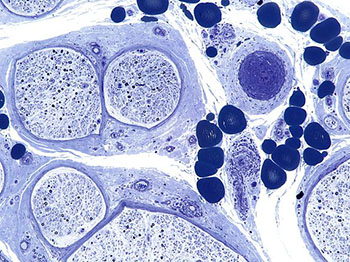 Histology is the microscopic study of tissues and cells, with its techniques providing evidence and visual images of biological and physical science. 
The SBMS Histology Facility provides training and access to specialised microscopy systems for tissue preparation, slide production, and histo-chemical staining to scientists and students within UQ and throughout Australia. 
The Histology Facility is managed and operated by Dr Darryl Whitehead who is available for consultation and advice on histology and microscopy related issues. 
You can expect to produce high-quality microscopic sections of frozen, paraffin and resin embedded material using the equipment in the Histology Facility.
Contact
T: +61 7 3365 2725
E: biomedhistology@uq.edu.au
Dr Darryl Whitehead  
Research Manager (Histology Facility)  
Skerman Building 65    
Office Room 213    
T: +61 7 3365 1929  
E: Darryl.whitehead@uq.edu.au  
Location
Skerman Building (65)
Laboratory Facility: 210
Cryostat Facility: 215
School of Biomedical Sciences
The University of Queensland
St Lucia QLD 4072 Australia