Mid-Year Graduations
Congratulations to the following students who attended the graduation ceremony on July 19 following the completion of their degree. We wish them every future success as they apply the knowledge gained at SBMS in their chosen disciplines.
Dr Thu Nguyen, PhD
Dr Andrew Thompson, PhD
Dr Ayaka Ando, PhD
Dr Hsiao-Jou Chen, PhD
Dr Danijel Tosovic, PhD
Dr Richard Schlegel, PhD
Dr Zhixuan Loh, PhD
Dr Haitao Wang, PhD
Dr Chao Lin, PhD
Dr Ying Wan, PhD
Dr Chuan Hsin Yin, PhD
Dr Hoang Oanh Do, PhD
Dr Jaisy Arikkatt, PhD
Dr Melissa Benson, PhD
Dr Xinli Zhang, PhD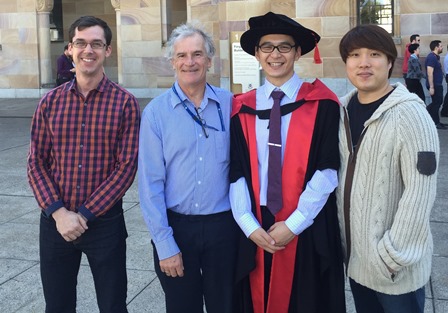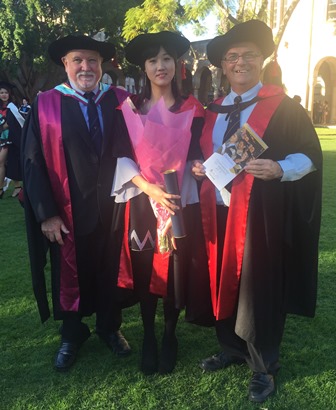 Biggest Morning Tea
Many thanks to all the SBMS staff who generously supported the Biggest Morning Tea fund raiser for the Cancer Council on June 3. The morning tea was organised by members of the Bowles, Ng and Piper labs, who also excelled in the kitchen to cater for the event. More than $200 was raised at the morning tea, and when added to donations received before the event, made a grand total of over $500.
Nick's famous Pancake Morning Tea
After a long hiatus Nick Lavidis' famous pancake morning tea returned in July. Armed with 17 litres of batter, Nick cooked some 300 pancakes for SBMS professional staff, students, postdocs, fellows and academics. PhD student Gordon Dengyun Ge – China CAS scholar (pictured below) tried his hand at pancake making under the watchful eyes of Nick Lavidis and Peter Noakes.The event was a great success and provided an informal opportunity for SBMS staff members from all areas to get together. The next pancake morning tea is scheduled for mid-August.