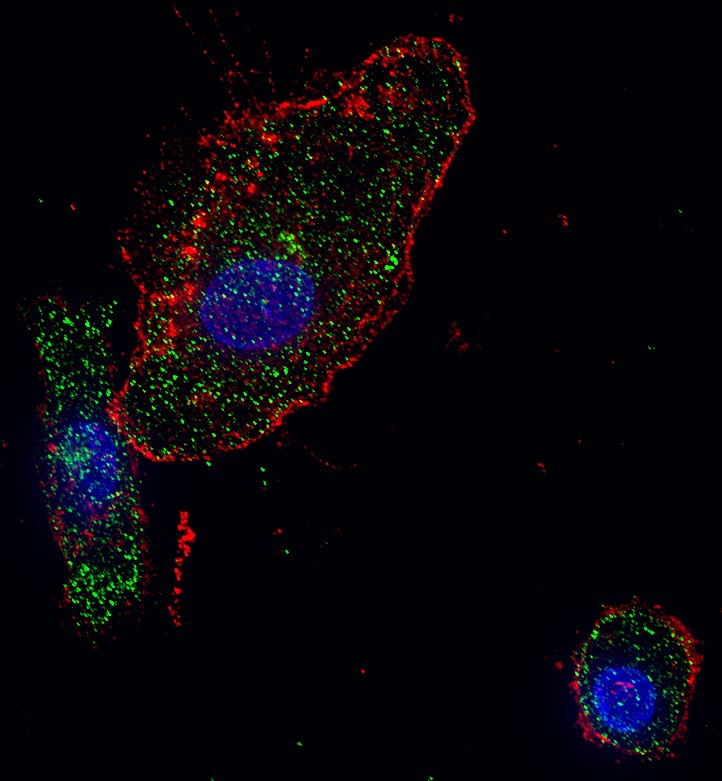 Dr Dan Croker joined the School earlier this year as an NHMRC-ARC Dementia Research Development Fellow and is working with Associate Professor Trent Woodford's team in the Laboratory for Neuroinflammation.
Before joining SBMS, Dr Croker was a PhD student and postdoc with Professor Matt Cooper in the Chemistry and Structural Biology division at IMB.
Prior to this, he spent more than nine years working as a Research Officer undertaking assay development and compound screening at Xenome Pty Ltd, and brings a wealth of drug discovery and development skills to the School.
Dr Croker's primary research interest is G-protein coupled receptors (GPCRs), the main protein target for 30-40 percent of currently marketed drugs.
Under his early career dementia fellowship Dr Croker will be investigating an ancient part of the immune system known as the complement system.
"Cell death caused by neurodegenerative diseases activates the complement system resulting in inflammation," he said.
"The complement immune system is comprised of about 40 different proteins and the system culminates in the formation of the membrane attack complex which punches holes in bacteria in order to destroy them.  
"On the way to making this complex, the complement proteins C3a, C4a and C5a are produced.
"I'm particularly interested in the role of the C5a protein in neuroinflammation, as C5a is one of the most potent inflammatory modulators in our bodies."
Dr Croker said part of C5a's function was to attract immune cells to sites of injury or inflammation in the body so that they can repair damaged cells and clear pathogens.
"However, when this process is not stopped, or occurs inappropriately such as in neurodegenerative disease, tissue damage can occur," he said.  
"I'll be investigating ways to effectively target C5a receptors and the complement system with drugs in order to treat neuroinflammation associated with neurodegenerative conditions such as Alzheimer's and Parkinson's disease.
 "There are two C5a receptors in the body and they can function alone or in a pair. The first one performs most of the inflammatory signalling in cells while the second one interacts with the first receptor, like an internal regulatory protein.
"While we have drugs which bind to the first receptor there have not been drugs which specifically bind to the second receptor."
Dr Croker has recently published an article in Immunology and Cell Biology, which highlights his work developing drugs that can now selectively target the second C5a receptor.
"We were able to demonstrate in the paper drugs that can selectively function through the second C5a protein receptor. These are the first reported selected drugs for this receptor and we can now use them to investigate the role of the second C5a receptor in neuroinflammation more effectively. This is one of the main aims of my fellowship within the School over the next four years."