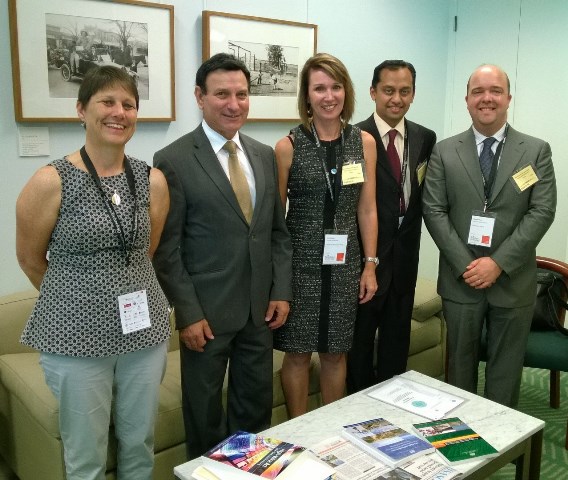 SBMS postdoc Dr Lisa Akison attended a 'Science Meets Parliament' forum in Canberra in March as one of two representatives from the Society for Reproductive Biology (SRB).
The two day event was organised by Science & Technology Australia and has been held each year since 1999.
The objectives of Science Meets Parliament are to stimulate and inform parliamentarians about how science contributes to and informs public policy, and assist in professional development through providing participants with an insight into political, policy, media and parliamentary processes.
Dr Akison said in addition to the formal objectives, the forum also provided networking opportunities for scientists from all over Australia.
"I found the forum was a very educational and thought-provoking experience which gave real insights into parliamentarians and the parliamentary process," she said.
"The first day focussed on professional development and involved interactive activities with experienced policy advisers, journalists, analysts and politicians who advised us how engage with the media, politicians and the policymaking process.
"The day finished with a dinner in the Grand Hall in Parliament House and two very passionate speeches from Christopher Pyne (Minister for Industry, Innovation and Science) and Bill Shorten (leader of the opposition).
Dr Akison said on the second day, delegates met with pre-assigned politician who had aligned research interests.
"I met with Tony Zappia, the federal member for Makin (SA), who is currently the Shadow Parliamentary Secretary for Health and Deputy Chair of the Standing Committee on Health.
"We had a great discussion about the work being carried out in the Moritz Laboratory for Developmental Programming in Disease to investigate the impact of peri-conceptional alcohol on offspring health.
"As a result of this meeting, I provided a submission to a parliamentary inquiry into 'Chronic Disease Prevention and Management in Primary Health Care' on my return to Brisbane. The report for this inquiry was released in early May."
Dr Akison said the National Innovation and Science Agenda (NISA) was also widely discussed on the second day, with a push towards more collaboration between industry and scientists.
"Many politicians urged delegates to contact their local members and make science an election issue, important advice with an election now looming!"