The University of Queensland is celebrating innovation and creativity with the 2022 Awards for Excellence in Teaching and Learning.
Acting Deputy Vice-Chancellor (Academic) Professor Doune Macdonald said the awards recognise the significant contributions of dedicated and talented individuals and teams delivering quality programs to set students on a lifelong journey.
"Our theme for Teaching and Learning Week this year is 'Learning for Life'," Professor Macdonald said.
"Through a tumultuous period of pandemic restrictions, flooding and disaster recovery, we've all had to think on our feet and stay agile.
"As challenging as that has been, this period has helped us come together in different and innovative ways.
"Teaching and Learning Week is an opportunity for the UQ community to celebrate creative and innovative teaching and learning practices and programs designed to enhance student experiences.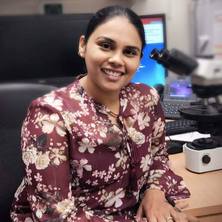 "You will find evidence of this in our award winners who have been creating practices that value respectful learning, partnered learning and personalised learning, meeting the sub-themes of this week at UQ."
Dr Suja Pillai from the School of Biomedical Sciences was recognised with an Award for Teaching Excellence for student-centred teaching approaches which foster critical thinking and prepare medical students for lifelong learning.
Development of critical thinking is an essential skill needed for medical students, it prepares them for practice and lifelong learning, a proficiency needed for every practicing health professional. As a pathology lead and coordinator for the Phase 1 Doctor of Medicine (MD) program, Dr Suja Pillai has been a facilitator of this process for UQ over the last four years. Suja led innovative teaching approaches in pathology which include museum integrated pathology curriculum, multidisciplinary learning models, and student-centered virtual classrooms. Suja's teaching and learning approaches enabled learners to associate theoretical information with their own frame of reference and better connect with real-world situations a much-needed skill for future doctors. Suja's student-centered approaches in pathology teaching and learning have helped students engage in 'deep' learning to support academic success and self-confidence aligning with the UQ student strategy of training game-changing graduates and enhancing their employability. Suja's passion for student-centered learning pedagogy has been recognised through multiple teaching awards including the prestigious John Pearn Medallion and Higher Education Academy Fellowship. 
UQ Awards for Teaching Excellence – 2022 Winner – Dr Suja Pillai from The University of Queensland on Vimeo.