Cardiac Disease and Therapy Group - Research
Understanding how an old heart gets stiff

Aging is accompanied by a stiffening of the heart and reduced function, which is accelerated by cardiovascular disease and leads to heart failure. How the heart stiffens is poorly understood. We have discovered a new mechanism involving structural membrane proteins (termed caveolae and cavins) and a signalling molecule (nitric oxide). The current research aims to use adeno-associated viruses (AAVs) to unravel the interplay between cardiac cells and these proteins/signals to cause stiffness and to determine whether this process governs normal aging of the heart. This work will advance understanding of how heart function is determined and reveal how the human heart changes with normal aging.
Understanding how growth factors regulate neonatal cardiac structure and function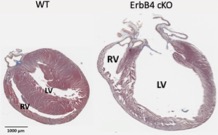 1. Regulation of postnatal heart growth by the receptor
ErbB4 Shortly after birth, heart muscle cells stop replicating, and cell enlargement during maturation is required to increase heart size. This is matched by expansion of blood vessel cells to meet increasing demand. This proposal identifies an essential component of communication between these different cell types, a growth receptor called ErbB4. We use adeno-associated viruses and adenoviruses to change protein expression in cardiomyocytes and cardiac endothelial cells to gain a better understanding of this receptor during a critical period for cardiac development and function.
2. How does ErbB4 protect of hearts from Heart Failure with Preserved Ejection Fraction (HFpEF)?
HFpEF is a disease without a cure, and is increasing in prevalence around the world. One of the most promising therapies in recent clinical trials for the treatment of HFpEF is a protein called Neuregulin, which activates the receptor ErbB4. Little is known, however, about how neuregulin is improving heart function. Our work seeks to use small animal models and virus-mediated manipulation of protein expression to determine; 1) which cell subtypes of the heart are responsible for the normal actions of neuregulin/ErbB4 in the healthy adult heart 2) How this normal function is perturbed in the context of HFpEF and 3) How therapeutic Neuregulin is protective in HFpEF.
Opportunities for researchers
We are always interested in hearing from highly motivated and talented individuals interested in working in our laboratory. We welcome proposals from postdocs, visiting sabbatical researchers and collaborators who believe they can contribute to our research. Please tell us about yourself and send a resume to Dr Melissa Reichelt at m.reichelt@uq.edu.au