Zeiss AxioScan Z1 Fluorescent Slide Scanner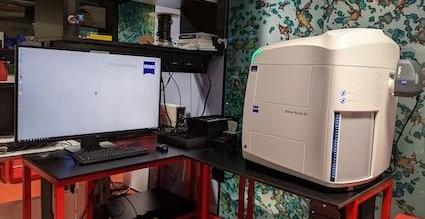 High Speed and Throughput Brightfield and Fluorescent Slide Scanner. 
Able to perform colour imaging of histological sections in a fully automated manner. 
Fluorescent imaging combines speed, gentle treatment and the optimal wavelength to perform true multispectral fluorescence imaging. 
The Zeiss AxioScan Z1 has 7 high powered LED light sources, 385nm, 430nm, 475nm, 555nm, 590nm, 630nm, 735nm and uses pentaband emission filters to allow high speed imaging using a sCMOS monochrome camera.