Zeiss LSM900 Fast AiryScan2 Confocal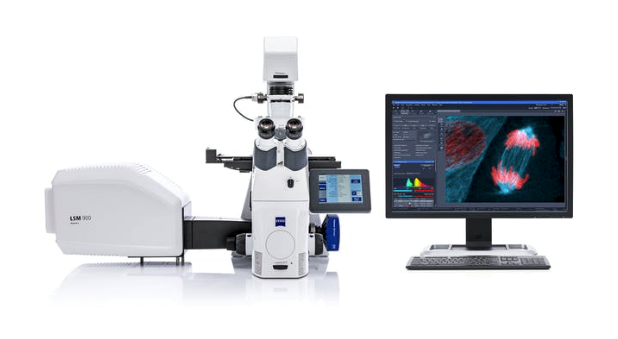 Inverted laser scanning confocal with super resolution capabilities using Fast-AiryScan 2. 
Visit the Zeiss website for more information.
Specifications
Laser lines: 405nm, 488nm, 561nm, 640nm. 

7 high-powered LED light sources, 385nm, 430nm, 475nm, 555nm, 590nm, 630nm, 735nm

Pentaband emission filter to allow high speed imaging using a sCMOS Axiocam 712 monochrome camera. 

Fast Z piezo focus drive

Detectors: 2x GaSaP PMT detector, 1 Airyscan2 GaAsP-PMT super-resolution array, one transmission PMT 

DIC optics on all objectives

On the fly deconvolution can provide precise imaging details and increased resolution.  

Fully incubated for live cell imaging and super resolution live imaging.
Objectives
10x Plan-Apo NA 0.45 Ph1 (dry)

20x Plan-Apo NA 0.80 (dry)

40x LD LCI Plan Apo NA 1.20 multi-immersion (water, silicon, glycerol)

63x C-Apo NA 1.2 water-immersion

63x C-Plan Apo NA 1.4 oil-immersion