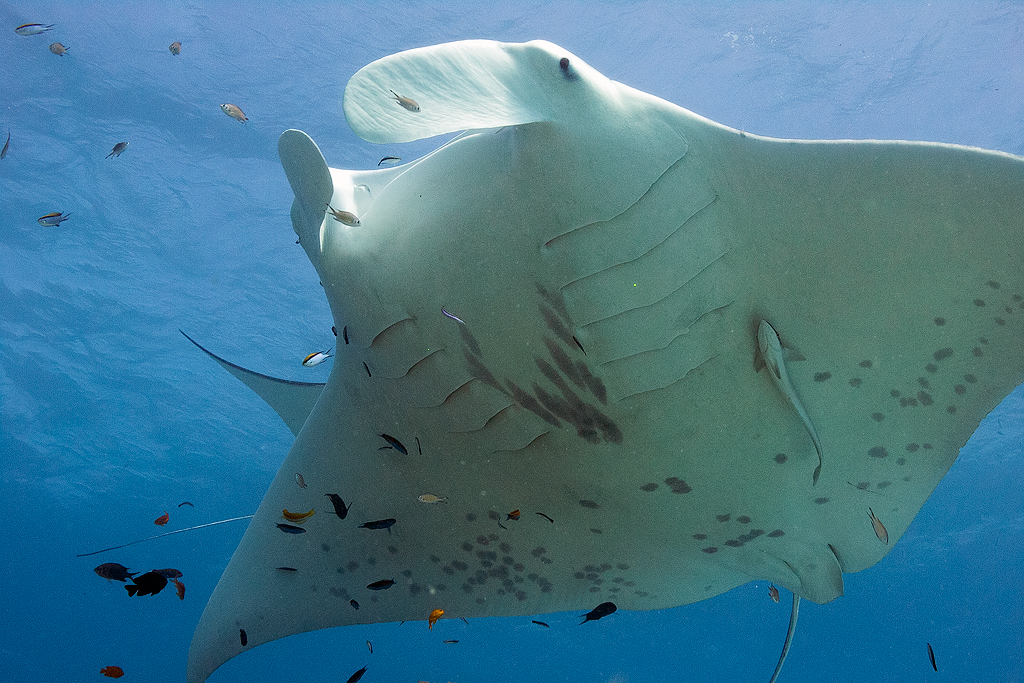 Our fish biologist, Professor Mike Bennett, is developing a program to protect endangered manta ray species in Australian and Indonesian waters.
"Field work will take place over the next three years predominantly in Western Australian, Northern Territory, Northern Queensland and Indonesian waters," Professor Bennett said.
"It will focus on gaining a greater understanding of the reef manta ray and the giant manta ray population dynamics Australia-wide and in certain regions of Indonesia.
"These are very large fish. The giant manta grows to about seven metres from wing-tip to wing-tip, and we estimate they live in excess of 25 years.
"But their reproductive output is very low. The female gestation period is about one year and they only produce one pup every three years.
"The manta rays' ability to offset losses to their population due to fishing is therefore a real issue."
Photosharing on Facebook
As part of the research program, Western Australian divers will be asked to volunteer as 'citizen scientists'.
UQ students will be visiting fishing ports between Perth and Broome in October and November asking volunteer divers to take photographs of the underside of manta rays and to upload them to the research project's Facebook page.
People interested in taking part should contact project.manta@uq.edu.au or visit Project Manta on Facebook.
Professor Bennett said the photographs would provide vital information about manta ray populations.
"The underside of a manta ray is highly patterned and as each one is unique, this enables us to identify individuals and to monitor their movements," he said.
"Details obtained from this observational data will be entered into our data base and will provide invaluable information for our manta ray protection research project."
Indonesian fieldwork
In addition to the WA fieldwork, Professor Bennett said studies would also be undertaken in Indonesia.
"We'll be working closely with Indonesian government fisheries regulation bodies as, although manta ray fishing is illegal in Indonesia, they are still being landed in some markets," he said.
"While this is against the law, it provides us with an opportunity to educate regional people about protecting the species and the possibility of developing eco-tourism employment opportunities.
"Eco-tourism has been very successful in other parts of the world where members of the local community have been made part owners. They gain an understanding that it's in their best interest to protect the local environment."
Project funding
The West Australian and Indonesian fieldwork is part of a three-year project funded by a $315,000 Australian Research Council Linkage grant.
The ARC project brings together industry partners (Austral Fisheries, TG Kailis Marine Conservation Fund, Ningaloo Marine Interactions, Lady Elliot Island Eco Resort and Earthwatch Institute) and scientists from The University of Queensland, Murdoch University and Deakin University to explore the biology and ecology of these large charismatic fishes in a research program that has attracted more than $1.5 million in funding.
Media: Professor Mike Bennett, +61 3365 2705, m.bennett@uq.edu.au; Lynda Flower, School of Biomedical Sciences Marketing, +61 3365 1536, l.flower@uq.edu.au