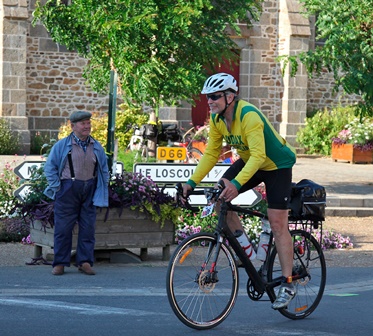 SBMS Chief Anatomist Dr Vaughan Kippers took part in the Paris-Brest-Paris 1,230km bike ride in August and officially finished the notoriously gruelling course in 88 hours 11 minutes.
In order to be allowed to compete in the ride, Dr Kippers had to have completed since November 2014 a number of qualifying rides: 200km, 300km, 400km and 600km.
Dr Kippers began the ride at 7pm on Sunday 16 August at Velodrome-National-Saint-Quentin-en-Yvelines in Paris with a group who had nominated to complete the course in under 90 hours.
"We had to reach the official control points within a certain time frame and throughout the race, the French people on the side of road day and night, clapping and cheering, was very encouraging," he said.
"All the official controls/food-sleep stops were supported by volunteers, as were the "gratuite" stops where coffee, water and food were provided round the clock by the locals free of charge."
Although official two hour sleeps were permitted at checkpoints, Dr Kippers said chronic sleep deprivation soon became a constant problem.
"You just had to grab sleep when you could. For me, this usually meant falling asleep for an hour or so with my head on the dining table or sleeping on the floor after I'd eaten a meal at a checkpoint," he said.
After 41 hours of cycling averaging 15km/hr, Dr Kippers arrived at the half-way point of Brest (618km) at midday on Tuesday 18 August and began the return journey to Paris immediately after lunch.
"On the return leg, the fatigue grew worse and I often found myself starting to fall asleep on my bike," he said.
"Like many other competitors, I took to stopping for short sleeps, often just 10 minutes, on the grass by the side of the road."
Dr Kippers reached the three-quarter mark of the course 24 hours later, arriving at Fougeres (921km) at midday on Wednesday 19 August.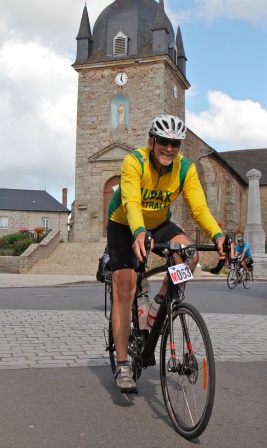 "Sleep deprivation became a real problem and my average speed went down to 14km/hr," Dr Kippers said.
"As the fatigue increased, so did the caffeine intake. I stopped to buy a coffee at a small local pub but fell asleep and spilt it on my leg. The owner was very sympathetic and replaced it free of charge. I also bought a Red Bull at the mini supermarket to keep for later!"
"Setting off again, my neck extensor muscles started to fatigue so I found it difficult to keep my head up sufficiently to see far enough ahead. I had restricted forward vision, which was a concern, but I couldn't do much about it."
Dr Kippers said the last 200 km of the ride were definitely the worst.
"Despite drinking the Red Bull, coffee and high-sugar-content "goos", they did not produce the desired effect. I found it difficult to keep my eyes open and maintain concentration, even though it started raining at 2am on Thursday and continued until the finish, it was not refreshing enough."
Dr Kippers finished the 1,230km course at 11am on Thursday 20 August.
"After crossing the finishing line most riders just collapsed. We took photographs for each other and all agreed we looked like we felt – terrible! We had our last lunch, then rode slowly back to our hotels without sitting on the seat," he said.
"I showered and went straight to bed about 2pm. I woke at 6am the next morning, having slept for more than 16 hours and missed the official dinner!
"Although I'd had a good night's sleep, good shower and good breakfast I still looked and felt terrible. I was very fatigued, my neck was sore, my right ankle was very stiff, and my toes and fingers had "pins and needles", especially on the left hand where the forefinger and middle finger were the worst affected.
"But despite the fatigue and physical discomfort, it was definitely worth the effort.  I'm very pleased to have achieved my goal of completing the course in under 90 hours, particularly when I found out later that 20 percent of competitors did not complete the course. But would I do it again? Never!"
More information about the Paris-Brest-Paris bike ride and details of the route can be found at http://www.paris-brest-paris.org/index2.php?lang=en&cat=accueil&page=edito