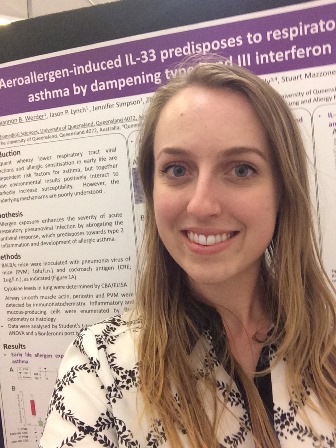 Second year SBMS PhD student Rhiannon Werder (Phipps Lab) received the best paper award at the Brisbane Immunology Group Conference held on the Gold Coast in August.
Her paper, "Aeroallergen-induced IL-33 Predisposes to Respiratory Virus-induced Asthma by Dampening Type I and III Interferon Production", was one of six chosen to participate in the postgraduate session and was judged best paper by an anonymous panel.
Ms Werder said her PhD research interest area was investigating virus - allergen interactions in asthma onset.
"I'm interested in cytokines - proteins that are released by cells and affect the behaviour of other cells," she said.
"We've been looking specifically at the role of interleukin 33, a cytokine which is typically found in asthma sufferers, and have identified that it suppresses anti-viral immunity.
"When we get a virus our bodies' immune response will try to clear it but we found interleukin 33 is preventing this from happening.
"We think this might be part of the problem in asthma.
"As part of the collaborative project with Pfizer, we're now testing therapeutic drug options for blocking interleukin 33 in mouse models of asthma."
Ms Werder said she developed a deep interest in the immunology side of asthma after undertaking an undergraduate project in the Phipps lab.
"I did a Bachelor of Biomedical Science and my interest has grown from that first project. I went on to do an honours project in the Phipps lab and now a PhD and this is definitely the area I want to focus on and develop in my future career."