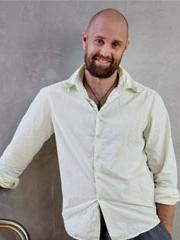 Congratulations to Associate Professor Michael Piper from the School of Biomedical Sciences and the Queensland Brain Institute, who has won UQ's Emerging Advisor Award at the 2019 Research Week Awards.
A gala event at Customs House in late September celebrated a record number of UQ researchers and research supervisors for their exceptional work.
Sabrina Oishi, one of Dr Piper's PhD students said Dr Piper was a particularly supportive PhD supervisor who really listens to his students.
"I think a really important quality in supervisors is their leadership skills, and that includes listening to their students, their concerns, their research ideas and just being able to support them throughout their candidature.
"He's always helped me and supported me during the low times, but also encouraged me to go out there and promote my research. Or go out there and be yourself as a scientist," Sabrina said.
Another of Dr Piper's PhD students, Danyon Harkins said Dr Piper was an excellent mentor.
"Michael is incredibly motivational. He likes to push students towards fulfilling their own academic goals, as well as mentoring students in order to increase their set of skills that are applicable to other areas."
UQ Acting Vice-Chancellor Professor Aidan Byrne presented the awards including the long-running UQ Foundation Research Excellence Awards (UQFREA), Partners in Research Excellence Awards (PIREA) and Awards for Excellence in Higher Degree by Research (HDR) Supervision Awards.
UQ's Deputy-Vice-Chancellor (Research) Professor Bronwyn Harch said the awards recognised the passion and commitment of the University's researchers and research supervisors.
"During Research Week we have the wonderful opportunity to celebrate their work and showcase the depth and breadth of research going on each and every day at UQ," Professor Harch said. 
"People from all walks of life and from all around the world have, and will in the future, benefit from UQ innovation."
A full list of 2019 UQ Research Week activities including the Research Capabilities Showcase, an Aboriginal and Torres Strait Islander Research Forum, the Three Minute Thesis (3MT) final and library events can be found here.
Media: Faculty of Medicine Communications, med.media@uq.edu.au, +61 7 3365 5118, +61 436 368 746.