About
The UQ Viral Vector Core offers a lentiviral particle production and consulting service utilising optimised protocols and workflows. This service generates ready-to-use lentiviral particle concentrates with typical titers of ≥ 108 transducing unit per ml (TU/ml) in approximately 300-400 uL of concentrated viral supernatant (see below for examples).
Typical lentiviral titres determined using mouse fibroblasts are shown in Fig. 1.

To achieve high titers of 108 – 109 TU/ml:
Lentiviral cargo/insert between LTRs should not exceed 7.5 kb.
Vectors should not express genes detrimental to the 293T viral producer cells.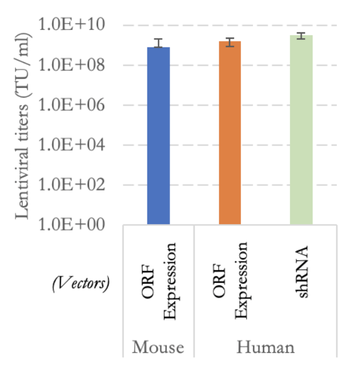 Lentivirus biology and production
Lentiviruses are a subtype of retroviruses, commonly used as a tool for gene delivery. A key difference between the two viruses is that lentiviruses can infect both dividing and non-dividing cells, whereas retroviruses can only infect mitotically active cells. Both viruses contain RNA genomes that are translated to DNA by viral reverse transcriptase, which is then integrated into the host's genome.

The wild-type lentiviral genome contains genes encoding packaging and envelope proteins (e.g. Gag, Pol, Rev, Tat, VSV-G) that are flanked by regions called long terminal repeats (LTRs). Genes between the LTRs are packaged and integrated into the host genome. For research purposes, the packaging and envelope genes are removed from recombinant lentiviruses and replaced with a user-defined cassette encoding genes of interest. The viral genes are supplied in separate plasmids during virus production, ensuring that the vectors are replication-deficient when used experimentally. 
Why choose Lentivirus?
Lentiviruses are popular tools used to deliver relatively large amounts of RNA (~7.5 kb) with a low immune response. The ability to integrate transgenes into the host genome makes it ideal for producing stable or knockout cell lines, or for ex-vivo gene delivery. Many researchers also use lentiviral vectors as screening tools with the use of custom pooled libraries (e.g. CRISPR KO or shRNA libraries). Lentiviruses are able to infect both dividing and non-dividing cells (unlike retroviruses), giving them broad tissue tropism. 
Advantages
Disadvantages

Integrates into host genome

Can be used to make stable cell lines

Large packaging capacity (~7.5 kb)

Stable transgene expression

Infects dividing and non-dividing cells

Useful in ex-vivo gene transfer

Low immunogenicity

Genome integration may be undesirable

Potential for insertional mutagenesis

Broad tissue tropism may be undesirable
Comparison to other viral vectors
Workflow
The VVC uses optimised workflows and validated protocols to produce high-quality viral vectors. To get started, please contact us or submit a booking to assist with designing a vector that is right for you. Depending on the complexity of the transfer vector, we can either clone it in-house or outsource this to an external company. You can also choose to clone and supply the transfer vector yourself if you wish.

To produce lentivirus, HEK 293 cells are transfected with packaging plasmids (containing gag, pol and rev), an envelope plasmid (containing VSV-G) and a transfer vector (containing a user-defined cassette). The lentivirus particles are then produced using the packaging cell line's machinery. Learn more about this.

After a few days, the lentivirus-containing supernatant is collected and viral vectors are then purified and concentrated into a small volume. Viral titre is determined by measuring the number of transducing units per mL via qPCR or flow cytometry. Upon completion, you will receive your viral vector along with any additional QC information that you requested (if applicable). ​